Impulse Spine Analysis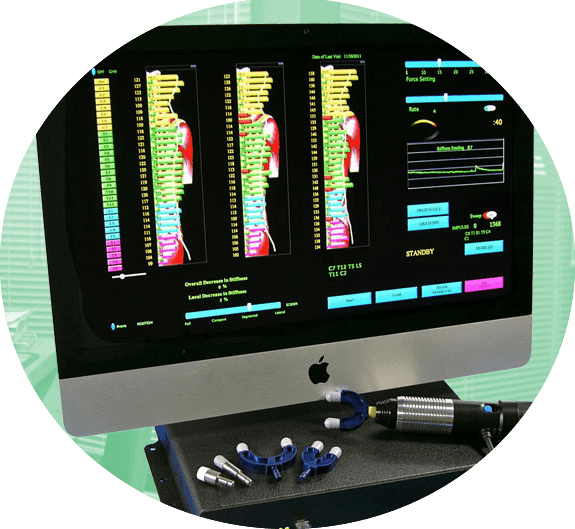 Due to the development of technology & computer imaging, the practice of medicine has seen several incredible advances in diagnostic procedures & treatments. Currently, we have MRIs to detect musculoskeletal ailments, CAT scans to uncover problems in the brain and cardiac exams to diagnose potentially fatal arterial blocks in the heart. It seems there's no limit to what doctors can diagnose and treat!
But advances in medical technology aren't just limited to conventional medical treatments, chiropractic care is also benefiting from newly developed, state-of-the-art diagnostic tools, representing the most rapidly growing segment of the professional health industry. Chiropractic care helps treat more than 20 million people in America each year. Pulstar Spine Clinic, American Chiropractic Orthopedics has recently incorporated a technology developed by a company with more than 20 years experience in the research and development of chiropractic tools & state-of-the-art equipment! The Impulse Spine Analysis developed by Pulstar is a system that can have a huge impact on chiropractic care. This is a revolutionary way for chiropractors to pinpoint the area of the spine that is affected in a patient. The Impulse Spine Analysis is an innovative spine function test for the diagnosis of back pain. Introducing for the first time in India, a revolutionary advanced chiropractic technology exclusively available at Pulstar Spine Chiropractic Clinic, Bengaluru.
What is Impulse Spine Analysis?
This is a computerized device that allows the chiropractor to perform an assessment of the spinal segments of the patient in each visit. With this information, the doctor can then use this instrument to adjust those segments that are misaligned and measures a precise range of motion of each spinal vertebra as well. This Impulse technology for spine analysis has received several clearances from the USFDA, in 1994 as well as in 1998.
Impulse Spine Analysis uses an instrument that can be used on a patient by putting a slight electrical impulse into the patient's spine. It records the resistance given back to that force. The sensor in the instrument measures this reflective force and sends it to the computer for interpretation. On the computer screen, a graphical display presents precise data from the device in an easy-to-read graph. The chiropractor uses this vital information to help determine the most important area(s) to adjust.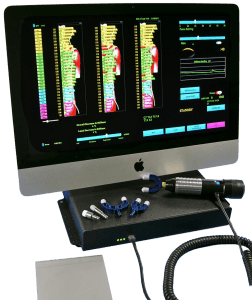 Pulstar Spine Chiropractic Clinic, Bengaluru provides the Impulse Spine Analysis to our patients. It is the most advanced piece of Chiropractic evaluation and treatment equipment in existence today.  With Impulse Spine Analysis technology, we are able to map your spine and help our chiropractor to analyze the stiffness of each joint. On the computer screen, you will be able to see your progress report after each visit. This gives an immediate visual impact of how your spine looked since the last time you visited our clinic. We will use the information we get from that graph, along with other information that we have about you, for example, case history, chiropractic examination, X-ray findings, to locate where the adjustment is essential.
How does it help?
Back pain can be caused due to a number of reasons, including irritated or damaged nerves, strained muscles, injured bones or ligaments or damaged spinal discs! But until now, chiropractic professionals only had their expert knowledge and their patient's symptoms to rely on in order to pinpoint the exact location of the problem. With the help of Impulse Spine Analysis technology, our Chiropractor is able to isolate a problem area in the patient's spine faster and more accurately.
Peer-reviewed research shows that common musculoskeletal complaints like neck pain, back pain, and lower back pain respond very well to impulse treatment. A recent study done on the treatment of spinal subluxations by multiple impulse therapy with Pulstar indicated that 50% of patients treated for neck pain felt a 100% reduction in pain in four visits or less. Another study involving a patient with one of the most common spinal ailments, lower back pain, found that half of the patients treated also experienced a 100% reduction in pain in four visits or less.
Benefits of Spine Analysis
Spinal Analysis shows very good improvements on the following ailments:
Headaches
Foot pain
Chronic neck pain
Chronic low back pain
Spinal stenosis caused by significant bone spurring
Neuropathy
Joint pain and stiffness of disc problems
Arthritis Myofascial Release
Carpal tunnel syndrome
Muscle spasms
Arm/leg pain
This technology helps to deliver a series of accurate, computer-controlled, gentle impulses to free up joint fixations, relieve muscle spasms, and restore normal joint function. The use of this technology does NOT hurt the patient at all. Our Chiropractors only use the lightest force needed to correct the problem. This technology uses a light force that is put against the patient's spine that is controlled by a computer. The instrument is applied against the patient; therefore the doctor has control over the thrust applied. Areas of the spine that could not easily be treated by hand can be easily treated by the computerized instrument. This is especially important for spinal areas that no longer hurt but are not yet back to normal function.
Interestingly, Impulse Spine Analysis uses the same technology and the same type of instrument that NASA engineers have used in the space program in order to evaluate and handle weakness and stress on spacecraft in zero gravity. Pulstar Spine Clinic, American Chiropractic in Bengaluru is happy to bring to our patients this incredible technology to achieve marvelous results for our patients. Call our chiropractic office today, +91 9019661100 today to schedule an appointment!