Digital Spine Analysis
With Impulse Spine Analyzer
DSA or digital spine analysis is a revolutionary way for chiropractors to pinpoint the area of the spine that is affected in a patient. The Impulse Spine Analysis is an innovative spine function test for the diagnosis of spinal ailments and guides you towards spine treatments without surgery.
Digital Spine Analysis in Bangalore - DSA
With Impulse Spine Analyzer
In keeping up with the latest in scientific technology to best serve our patients, Pulstar Spine Clinic utilize the NASA technology to solve back and neck pain! By combining traditional chiropractic care with the revolutionary, most advanced, precise and patient-friendly technology of chiropractic technology, Pulstar Spine Clinic brings to you for the first time in India, "The spine analyzer".
Back pain is one of the most common complaints for which people seek outpatient treatment. Yet, a striking rate of 45% of patients who suffer from any sort of back pain, tend to neglect it for more than 7 weeks. This often results in a delay in treatment. A majority of these people seek treatment for low back pain. Timely diagnosis and treatment can help to reduce the risk of surgeries. Modern tests like a digital spine analysis can greatly help in this regard.
Even today, X-ray, MRI and CT scans are used as diagnostic investigations. But there are certain conditions which do not appear in these scans. DSA offers an accurate diagnosis for these difficult, complicated cases.
Choosing Our Clinic, Choose The Best Care For You
Doctor and patient can see the effects of the treatment on screen. Patients have fewer visits to feeling better. And, improved patient satisfaction generates word-of-mouth referrals.
What is Digital Spine Analysis?
Digital spine analysis (DSA) is a non-invasive test in order to measure the functioning of the spine.
The DSA is used for quantitative assessment strength, flexibility, and range of motions of the muscles supporting the spine.
DSA helps to specifically point towards the area of concern.
DSA is a fairly cost-effective technique to determine the exact area of problem and in-turn helps your therapist to provide you appropriate spine rehabilitation therapy. This is called target spine therapy (TST).
This therapy aims at treating only the weakened areas of the spine and correction of muscular imbalances.
The DSA up to some extent even helps to assess spine curvature and postural abnormalities. Furthermore, the treatment also aims at improvement of posture.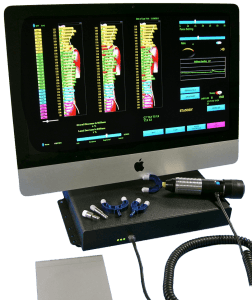 The DSA is used to assess not just spine problems, but also conditions involving other joints and their function and stability. Some conditions for which digital spine analysis can be conducted are:
Sciatica
Degenerative disc disease
Spinal stenosis
Spondylolisthesis
Post-surgical pain
Pain during the range of motion
Compression fracture pain
Sharp rib pain
Neck pain and stiffness
Degenerative arthritis
Bulging discs
Whiplash injuries
Hip and knee joint pain
Ankle pain and sprains
Foot and heel pain
Plantar fasciitis
Shoulder pain
Bursitis, tendonitis
Frozen shoulder
Tennis elbow
Carpal tunnel syndrome
Cervicogenic headaches
Migraine and other headaches
Insomnia
How Spine Analysis Can Help the treatment Plan?
Before beginning any treatment, a therapist will obtain a detailed medical history of the patient, including onset, duration, and progress of current compliant, past history and family history.
A history of previous medications should also be noted.
A complete physical examination is done to rule out any other underlying cause for pain.
Pain and functional disability before and after treatment are assessed.
The device has a seat and paddles attached. Each paddle is meant to assess muscle strength, stability, flexibility and range of motions.
A monitor is placed in front of the device which shows a graph-like reading for each range of movement.
A report is obtained after the test which gives you details about the functioning of your spine and other joints. Your reading is given in comparison to reference values.
In this way, the digital spine analysis helps in performing an accurate diagnosis. This in return helps our therapist to give you a tailor-made program to improve the functionality of specific muscles.
Serial assessment is done once during the course of treatment and once at the end of treatment to evaluate the effects of your customized physiotherapy.
The device-based therapy is ideally spread over 6 weeks including 18 sessions. The number of the session may be increased if required.
Although, digital spine analysis is a considerably new addition in the field of medicine, there are some researchers who speak positively about the role of DSA in the management of a wide number of clinical conditions.
Recent research conducted, showed that device-based therapy was found to improve functioning and reduce disability in patients having low back pain.
Case Studies
Another case study suggested that in a 31-year old individual suffering from cervical lordosis had complaints of stabbing pain in the ribs, arthritis of neck and numbness/ tingling in both hands. Following appropriate therapy, the patient showed significant improvement in objective outcomes. DSA-based therapy focused specifically upon restoration of the spinal curve. It was also noticed that the patient's spine had undergone reorganizations and symptoms.
Another case report suggested that, in a 6-year old patient who had learning and concentration difficulties, along with severe abdominal pain (diagnosed as an abdominal migraine), had shown marked improvement in concentration and an absolute absence of abdominal pain following DSA-based therapy.
On the contrary, another randomized controlled trial was conducted on military recruits. This study reported that device-based specific strengthening did not offer satisfactory results as compared to routine physiotherapy for managing low back pain.
In spite of all the positive case results as well as researchers conducted, there are no studies which have shown long-term use and results of device-based therapy. This area could be further studied and researched.
Upper Extremities
Shoulder Pain
Arm Pain, Tingling, Numbness
Bursitis
Tendonitis
Frozen Shoulder
Limited Motions
Arm Weakness
Thoracic Outlet Syndrome
Post Surgical Pain
Elbow Pain
Tennis Elbow
Golfer's Elbow
Cubital Tunnel Syndrome
Wrist & Hand Pain
Carpal Tunnel Syndrome
Thumb pain
Hand weakness
Headaches
Tension Headaches
Migraine Headaches
The base of Skull Headaches
Headaches after Whiplash
Cervicogenic headaches
Dizziness/Vertigo
Insomnia
Fatigue
Lower Extremities
Leg Pain, Weakness
Hip Pain
Trochanteric Bursitis
Thigh Pains and Weakness
Knee Pains
Shin Splints
Ankle Pains
Ankle Sprains
Foot Pain
Heel Pain
Plantar Fasciitis
Fallen Arches/Pronation
Neck Conditions
Neck Pain, Stiffness
Muscle Tension
Limited Motion
Degenerative Arthritis
Bulging Discs
Whiplash Injuries
Low Back Pain
Leg Pain
Bulging Discs (confirmed by MRI)
Restless Leg Syndrome
Degenerative Disc Disease
Arthritis
Spondylolisthesis
Sacroiliac Pain
Post Laminectomy Syndrome*
Post Surgical Pain *
Surgical Back Fusions *
Pain in Ranges of Motion
Mid-Back Conditions
Rib Pain: Sharp
Chest Pains
Gastric Reflux
Compression Fracture Pai
Other Conditions
Fibromyalgia
Rheumatoid Arthritis
Choosing Our Clinic, Choose The Best Care For You